Hello GoliCrafts,
This was a hard decision to make. I have worked many hours on these games, specially BedWars! But it isn't necessary to have it when almost no one plays it. My server was dedicated to 200+ players, what I had before but now with a player base of 16-35, it isn't good to have so many games and are only chaos.
The Games I will remove is
BedWars, Free For All, GunGame
and
Arcade

BedWars
have lived with the GoliCraft server since the gamemode was created in 2016. It was so fun to play and just chill, practice and have a good time! Now the game is old and kind of boring but it WAS very fun to play and will be remembered!
Free For All
was the very first popular PvP game in Norway. This was one of my first server games released in 2014! It was so fun to play and explore the maps and abilites the maps had. My personally favorite map was
The Goli Hotel
created by Lefserull early 2015! The map was greafed and deleted some months after
FFA is not the same as it was. Rest In Peace!
GunGame
was released some months ago and was very popular some weeks! It was fun to play, rankings, coins and much more. The map was unique and good looking. It was fun and will be remembered.
Arcade
is a gamemode that never become successful. The plan was to make a server with tons of different games and we did but never become popular. At the very first beginning, we had something called MLG Games that was a mix with MLG Cobweb, SpeedBuild and LavaFloor. After that we've added
MLG Rush
what seems to be very popular with over 70+ players only playing that! Suddenly that time was the period
@Russen
griefed and raided my server. My server got down in maintance because he deleted some massive work and when it re-released the players were gone and the gamemode was kind of dead. Another cause was the lagg that appeared. I did not find out what caused it but I just purchased and purchased more ram and nothing worked.
But! I have some good news?!
Yes! We have thought about everything!
MLG Rush
will appear at the Practice server and
Free For All
plus
GunGame
will appear at
Game Roulette!


AND IT'S MORE NEWS!
Yes! It is official, GoliCraft will have
SkyBlock
with tons of futures such as
Custom Islands, Custom Enchants, Nether portal to Nether islands, skyblock rankings, Minions, Gambling, Auctions, Shops, Grinding
and so, so much more!
And we will update our remaining games as good as it's possible to make it more fun, unique and variating to play!
Best Regards,
Goli - xXBestOwnerXx


Hi GoliCrafters,
I am so excited to tell you about this huge survival reset! This is the 9th season of survival so far. The first season was in 2015, that's 3 years ago! The time goes fast...
My goal with the survival server is to make a player never feel bored! Therefore I've added a lot of different to do. And this season will be the best!
The reason why I decided to restart the server can you read above:
A player named @Krillian1 was an earlier Admin and had the control of the survival economy. I believed I removed his perms but it was bugged back if that gives sense. Some weeks ago he decided to give everyone at survival a full pot of money to destroy the economy totally. After the players receiving that amount of free money, it wasn't fun to play anymore. All the gangs were max upgraded, purchased all of the building blocks and claims, kits, crates and more. It was just destroyed. That was my main reason to reset this early.

I had a plan to make a reset but not now! My plan was to just add new things to make it more fun but since the economy was broken I couldn't do that. My plan was to maintain the other gamemodes and after all of that was done I will come back to survival and make a global reset.
The new Survival...
An experience you will never forget!

The systems
In the new version, we will make the economy more balanced and fear. In this version, the money will have a better worth to for example pay for bigger land claims or convert to XP and so much more!
To make the gameplay goes smoothly we will guarantee
NO LAG
, either FPS (computer lag) or TPS (server lag) Beleive me, my machine is really bad with max 28 FPS...
Claiming
Since Survival is more about making cities and lives together we will add a new claim system. This system is very easy to use and you have maybe heard about it before. Use a Gold Shovel and make two marks in the world. By default, the claim size will be small but you can purchase bigger claim sizes with in-game money. With this system, you can easily make your own city with villagers and best of all, hotels. This will be very fun to use!
I will make a video tutorial on the new system when it comes out.
Farm types
It is important to have many different ways to earn money to make it more fun and variating. In this version, you can sell
Cactus, Pumpkins, Sugarcanes, Wool, Custom fishes, NEW: Wheat, Cake, Carrot, Potato, Baked potato, Mushrooms, Netherwart, Grilled pork, grilled steak, grilled chicken, chicken eggs

Spawners
Make a silk touch pickaxe, find a spawner and mine it! Take it with you and make a big mob-farm. Kill mobs and earn in-game money and Exp!
Custom enchants
This is very cool! Instead of using the boring enchantment table you can obtain custom enchants while typing /enchanter and then purchase a rarity of enchantment with Exps.
A list of all the custom enchants:
Helmet
Fish 1 Gives you infinite WaterBreathing
AntiFog 1 Removes blindness effect
Blaze 1 Gives you infinite Fireprotection
HealthBoost 1-3 Gives you a extra heart (1 heart per level)
Sunlight 1 Gives you infinite nightvision

Chestplate
Beast 3 Gives you infinite Strenght 2
Reborn 3 Heals you when below 3 hearts
Replenish 3 Gives you infinite regeneration 2
Implode 3 Spawns 2 creepers or 1 charged creeper

Leggings
Bump 1-3 Knocks the person whose attacking you a few blocks away extra distance per level
Tipsy 3 Gives the person whose attacking you Confusion,mining fatique and Slowness
Weary 3 Gives the person whose attacking you Miningfatique
Arc 1 Strikes lightning
Vanish 3 Gives enemys slowness & blindness
Retreat 3 launches a player up in the air when at low health (no falldamage)

Boots
Leaps 1-3 Gives you infinite jumpboost 1-3 depending on enchantlevel
Scoot 1-3 Gives you infinite speed 1-3 depending on enchantlevel
Feast 1 Gives you infinite saturation
Wings 3 Allows you to fly in your own faction Territory

Sword
Confusion 1-2 Gives the person who you are attacking Nausea for 5 seconds
Haste 1-3 Makes your clicking faster
Thunderous 1-3 Strikes lightning on the person who you are attacking
Lightsout 1-2 Gives the person who you are attacking a blindness effect
Tank 1-2 Gives you infinite strenght 1-2 depending on enchantlevel random activation
Grind 1-3 Gives more exp when killing mobs
Life 1-3 Steals an enemy its heart
Withered 1-3 Gives an enemy wither effects
Bow
Fireball 1 Shoots a fireball
Freeze 1-2 Gives the person who you are shooting at a slowness effect
Lightning 1-3 Strikes lightning on the person who you are shooting at
FiringSquad 1-3 Shoots multiple arrows depending on level

Tools:
Blast 1-3 Breakes...
Hello GoliCrafters,

I am so excited to inform you of all of my planned updates/improvements/changes. This will be so epic and fun! I have listed all of my gamemodes and planned ideas under. Enjoy reading.

The Lobby
Now it is time to release The Dropper. The plan is to release new maps monthly to make it more fun and variated.
It will be fun to release a new island, The staff park
In the feature, we will add back Find the treasure (Finn Skatten)
DONE! In the new spawn build update, I have added an information board.

BW FFA
As this begins to be boring with the same type of maps, kits etc I will add a new kit
At the moment the maps change automatically to a new one. My plan is to add a map-vote where you can upvote for a specific map about 3 minutes before it will change. If you log of your vote will reset.
I will be adding more maps but at the moment this is not a priority

LootWars
We will work on adding 2 more maps and a map-vote where you can upvote for a specific map about 3 minutes before it will change. If you log of your vote will reset.

Survival
Make it possible for gangs to have gang fights (gang vs gang)
Make a /duel (name) command that 1v1 another player with the stuff you have equipped
DONE! Make it possible to mine spawners or buy spawners in our shop
DONE! Make it possible to sell wool for a real price again
DONE! Add a system that can stack mobs/animals to reduce lag

The Arcade
DONE! Implement a new lobby
Fix bugs with TNT Run
DONE! Major updates/changes

Practice
Add a new kit, BedWas with basic equipment from BedWars (BW FFA) and a playable BedWars map to duel on.
Major updates/changes

KitPVP
Implement a new map
Make the kit-prices much cheaper

GunGame
In a month or so GunGame will be moved into GameRoulette

Free For all
In a month or so Free For All will be moved into GameRoulette
Creative
Plot-ratings! Make a sign on the first line [Rate] and click "done" then the sign will update and if another player right-click on the sign it will say 1 rating. Example:
OP PRISON
This server will not be closed but will have a heavy revamp later when some of my new systems are out. But I promise you, you will not be disappointed!

BedWars
No ideas without fixing major bugs/issues.

SkyBlock
GoliCraft will release SkyBlock and it will be an epic release with many custom features. Expect a server like nobody else. More information to come later this summer.

Other
Make the AntiCheat more stable
DONE! Update the AFK-kick system
Release a new /report and staff-tool system
Update all off the kit-save plugins on all servers
Fix an issue with the friends' menu in the lobby (take too long time to open)
Fix an issue with purchasing new kits with Golets, KB FFA, PunchBow, BWFFA, Survival
Implement a new rank-system.
Implement reactions on the forums
DONE! Make ts.golicraft.net address
DONE! Make forum.golicraft.net to the standard address
DONE! Update the help-commands
Thanks for stopping by and reading this. If you have any suggestions or anything to tell us. Feel free to contact me at direct-message or apply any suggestions here
My goal now is to make GoliCraft more interesting again for my players and make a better player-experience overall. I love feedback and are open to all ideas and suggestions.

Comment below what you think about all the plans and updates!
Hei. Denne tråden er limited time som vil si at etter en stund så fjerner jeg innlegget. Jeg vil bare si at GoliCraft har betydd mye for meg og veldig mange andre i løpet av årene og det skal ikke ende her. Forhåpentligvis vil spillere fra andre land si det samme om noen måneder og det er det som er målet mitt.

Tråden er ganske rotete og det er frivillig å lese, men hvis du klarer å lese 3000 ord så gjør det. Er god lese-trening!

Mine meninger
Det er vanskelig for meg å forklare og vise alt jeg/vi gjør på GoliCraft og enda vanskeligere å formulere det til dere. Siden samfunnet er ganske dødt og mc-norge ganske dødt grunnet andre interesser for spillere så tok jeg valget for noen måneder siden å gå over til engelsk, men enda synes folk det er morsomt å si "haha, når skal dere bli engelske a?" når man vet at vi jobber med saken og at det ikke er bare, bare å annonsere serveren sin globalt.
Mine prioriteringer er for endel ganske proviserende siden jeg tydeligvis kun bryr meg om donator perks og kosmetikk features osv. Det er helt feil, men det har vært prioritert mens jeg oversatte alt til engelsk så bestemte jeg meg for å skifte en viss layout på ting og oppdatere diverse noe folk mener jeg heller kunne brukt på noe annet, og det vil alltid være slik at man har forskjellige meninger på ting og det respekterer jeg, men jeg tror ikke jeg kunne gjort noe anderledes.
Det er ikke noe å legge sjul på at jeg ikke har vært verdens beste til å ikke yppe meg med andre spillere tilbake i tid og har aldri forstått noe særlig konsekvenser av ting før de siste månedene egentlig. Jeg er ganske sent utviklet i hodet, tanker/konsekvenser/styrings-måte osv, men nå gjør jeg noe med det i forhold til før.
Jeg har alltid vært god til å skylde på andre og den som sier det best er morra mi "Ikke skyld på søstra di! Du må alltid ha noen å skylde på, det er ikke bra" og ja, det er helt ræva og jeg jobber noe sjukt med å legge av meg den vanen. Serveren har vært med å modne meg som person og bli kjent med andres meninger istedet for kun mine egne. Nå vil ikke jeg påstå at jeg bannlyser folk som har vært imot meg eller sier imot meg, men når det går så langt at man argumenter med diktet-opp hendelser så blir jeg så provisert at det hender jeg trykker på platform-ban knappen, noe jeg skal forbedre meg på.
Jeg er veldig god til å ta ting personlig, en helt ræva egenskap som jeg unner alle som ikke har. Det er mange ting jeg har reagert på som jeg faktisk kunne ignorert eller skrevet
istedet for å lage et svar som kan missforstås og lages enda mer drama ut av.
Når jeg først lagde server så, så ikke jeg meg selv som en annen person enn en vanlig toxic spiller, siden jeg er like toxic og nettroll selv. Jeg holder ikke inne det jeg føler om en person og bruker det ord-forholdet jeg ville brukt uansett, samma om jeg har en server eller ei. Hvorfor skal jeg, fordi jeg har en server måtte oppføre meg anderledes å svare folk anderledes privat (utenom serveren)? Det burde være likt, men det er det faktisk så utrolig få som forstår og jeg gir så blanke ***, men det gjør at jeg bare får enda mer hat og kritikk og sånn fortsetter det i evighetsbanen.
Det er så utrolig mye å skrive at jeg kunne tenkt å lage en video på det, men skriver slik at dere som trenger lese-trening får det
Lese på do, i senga før dere legger dere eller før dere står opp, mens dere sitter i bilen på vei til fjellet eller mens dere venter i en kø. Uansett, jeg skriver alt jeg har på hjertet med engang.
Denne tråden er rotete og er for at noen få av dere kan lese, hensikten? Nei det vet jeg ikke, men er gøy å skrive da.
Si ifra om dere vil ha en Del 2 har mye jeg vil få ut. Nok om det, nå skal jeg skrive litt om forslag & endringer.
Forslag & endringer
Det er jo helt sjukt krevende å ha en server. Jeg står for 100% av planleggingen, arrangeringen osv av nye ting, selvsagt har jeg hjelpere som gjennomfører plugins, bygging osv, men det er jeg som sier hva og hvordan ting skal bli. Jeg kan ikke holde meg oppdatert på alt mulig i staben, bygging, utvikling osv. Men jeg gjør mitt beste og får bare håpe at jeg ikke får sånn stress sykdom etc som gjør at jeg dæver.
Etter å ha reklamert om suggestions kanalen og lignende har så å si ingen forslag kommet inn. De fleste som klager på serveren og sier den er bugga vil aldri si hvorfor eller hva. Jeg kan ikke lese tankene til folk. Uansett så vil forslag & endringene under handle om mine tanker + ting jeg har hørt av forskjellige spillere etc.
Core
Core-systemet er liksom selve oppbygningen til serveren. Sånne basic-kommandoer, funksjoner osv. Det eneste som oppdateres i core for øyeblikket er:
- /report, med cooldown & ny staff-tool
AntiCheat
Siden serveren ikke er så stor for øyeblikket er det ikke nødvendig med så mange Moderatorer, da er det greit å ha en AntiCheat som også kan auto-kick når noen f.eks fly/speed hacker. Mange har en mening om at jeg ikke trenger en...
Golets Reset + Vote Points
Denne tråden er skrevet på Norsk og slettes snart når alle har fått informasjonen og vi er godt over i et internasjonalt community.
​
First login
Med oppdateringen under har vi lagt til et hyggelig system som sender denne meldingen når en ny spiller logger inn for første gang. Tallet bak (#1) betyr at jeg logget inn først av alle sammen. En ny spiller får f.eks. (#101) da betyr det at den spilleren er spiller nr #101 på golicraft siden idag (27.06.2018 - 13:47)

Golets Reset
Jeg beklager virkelig for dette her, men det er noe som må gjøres. Ettersom at systemet har vært kaos der noen har 100 000 og noen 3000 Golets så er det veldig urettferdig. Når jeg satt opp systemet tenkte jeg ikke at det kom til å bli en økonomi jeg skulle bruke overalt (kits, abilities osv), men kun på kosmetikk i hub.
Det er på tide med at alle starter på nytt med ca. like mye. Vi har redusert prisene slik at det er mer tilpasset hva en vanlig spiller kan oppnå også videre. Vi har også lagt til nytt kosmetikk og funksjoner man kan kjøpe med Golets og en større sjanse for å vinne mer Golets i vår Golets crate enn før.
Nå som vi resetter alle Golets har vi muligheten til å gi alle x Golets første gang man logger inn igjen. Under kan dere se en liste over hva de forskjellige får
Alle: 350 Golets
Gold: 1000 Golets
Diamond: 3500 Golets
Emerald: 10 000 Golets
Legend: 25 000 Golets
Vi håper dere er positive med kunngjøringen og ser for dere at det blir bedre med en reset. Dette gjør at vi også i senere tid kan komme med enda mer kosmetikk, kits, abilities uten å sette prisene for høye.
Vote Points
(Ikke lansert enda. Kommandoen /vote er deaktivert)
Ettersom at vi jobber for å bli internasjonale må vi bli mer synlige. Derfor introduserer vi Vote Points ved at hver gang du stemmer på vår server vil du få 1 Vote Point. Med Vote Points kan du kjøpe ny kosmetikk og abilities i spillet eller konvertere det til Golets om du vil bruke den valutaen istedenfor!
Hver dag kan man stemme på 5 sider pr. 24 time. Ved å gjøre dette vil vi for hver vote få en høyere ranking og om nok spillere stemmer på oss så kommer vi høyere opp og på topplisten. Da har vi muligheten til å bli sett av andre-lands spillere som er ute etter nye servere å spille på.
Vi har Vote Points for å gjøre det mer stas å stemme samtidig takke dere enda mer. Ved å stemme på oss gir vi bort ting verdt en verdi på vår nettbutikk f.eks. Treasure Chests og fly i Survival.
Vi håper systemet blir brukt og gleder oss til å se nye internasjonale spillere på GoliCraft :emoji_grin: Tusen takk!
Med vennlig hilsen
Goli - Første og siste eier
LOOTWARS UPDATE!
We have added TNT Sheep's and Gravity Bombs!
​
TNT Sheep
This is a creative addon we've added to make the game more competetive. For example if you hunting someone you can just let your TNT Sheep take them. The sheep will search for the closest player to attack after some seconds. Make sure to have your sounds enabled to listen when it will blow up!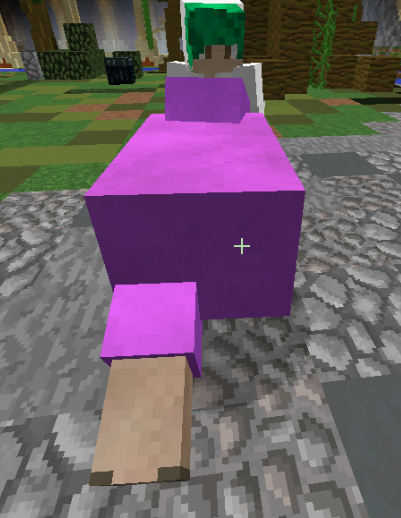 Gravity bomb
This bomb can be used as defend or diversion. Place the bomb down and after 3 seconds it will blow the players around it far up in the air. For example if you are being hunted by someone you can place the bomb down and the hunter will be pushed far up in the air or you can use it as a escape method up in trees and things like that.

Be creative and use your own strategy to dominate the game!
Best regards,
Goli - xXBest OwnerXx
Hei alle sammen.
Nå har jeg plukket og mixet inn en ny ledelse. Den består av meg,
@Goli
,
@S0lrike
og
@Beeenjamin
. Valget mitt var ikke så veldig vanskelig, men jeg brukte god tid på valget og er veldig fornøyd.
Valget mitt har gått utpå å få to forskjellige personer som sammen med meg klarer å gjøre alt som skal til på en server. Med
@S0lrike
som min utvikler og administrator hjelper meg med å videre utvikle golicraft for bugs, nye ting og forbedringer samtidig som har erfaring som generell leder. Og med
@Beeenjamin
som står for staben og communityet. Sørger for at staben gjør jobben sin og at vi har et godt samfunn der samtidig som at spiller-samfunnet er rent og hyggelig. Med mange ekstra oppgaver fått ansvar for ledning av clanstaffs, trivselsledere, manager, screenshare leder og event arrangør.
Vi er en trio med meg. Vi har alle våre oppgaver, men vi samarbeider godt og fordeler arbeid ordentlig mellom oss. Jeg er stolt av å presentere min nye ledelse og ser raskt at dette vil fungere bra!
Her er en introduksjons tekst fra mine to nye administratorer
Hei alle sammen, mitt navn er Benjamin.
Jeg er en av de nye administratorene på GoliCraft.
Det jeg har ansvar for er staben og samfunnet. Det betyr at jeg skal passe på at staben gjør som den skal samt at jeg skal arrangere forskjellige events. Jeg ser fram til å være en del av den store videre utviklingen av golicraft og gleder meg ekstremt!
__________________________________________
Hei mitt navn er S0lrike
Mitt område som administrator er at jeg skal stå for det meste med hjelp av utviklingen og forbedre det som er og lage nye kule ting! Jeg er veldig engasjert til å jobbe videre på golicraft og forsikre oss om at golicraft skal bli enda større og bedre. Jeg er også med på alt det andre av jobber, men fokuserer mest på utvilkling delen <3
Hei. Jeg lager denne tråden fordi en person går ut og sier noe han ikke vet noe om. Dette har gjort at jeg får mye unødvendig hat.

Moderator
En moderator rank er til for å moderere på serveren, teamspeak og discord, alle våre plattformer. Rollen er til for å kunne ha mer kontroll over både hvordan spillere oppfører seg og modifikasjoner de bruker. De har tillatelse til å sjekke chat-historikk til en spiller. En Moderator har også mulighet til å oppnå tittelen trivsels-leder som du kan lese mer om under*

Senior Moderator
Denne rollen er utdelt til personer som som oftest har vært i staben en god stund og gjort en god jobb. Oppgraderingen fra Senior Moderator og Moderator er egentlig mer "trusted" og at man kan svare på unban søknader. Det er også mulighet å kunne svare på moderator søknader.

Administrator
Denne rollen er spesiell og er det høyeste under eier rollen. Administrasjonen fra mitt synspunkt er de som skal avlaste meg i jobben som utvikler og generelt eier.

Av å kunne arrangere events, svare på trivsels-leder søknader, clan-staff og generelt andre oppgaver som å styre events i hub som fotball turneringer. Hoved-ansvarlig for å holde staben samlet som community og sørge for at alle gjør jobben sin. Svare på klager og ha siste ord i en diskusjon. Ip-ban og ip-mute. Tilgang til å bygge i hub og kreativ.

Kreativ er en server der folk kan bygge mye som kan ødelegge. Der har min administrasjon tilgang til å fjerne bygg. Andre oppgaver kan også optimaliseres ettersom forespørsel og behov fra en i leldelsen.

Teksten er ikke sett over for skrivefeil og er lagd for den stygge diskusjonen.
ENGELSK VERSJON KOMMER. OVERSETTEREN ER BARE PÅ RASK FERIE.

Hello GoliCrafters,
Arkade prosjektet er endelig ferdig og lanseres PRE-ALPHA. Vær oppmerksom på bugs/glitches. Jeg ber dere vennlig om å rapportere alt av dette til oss på forumet, teamspeak eller på serveren.
Standard ARCADE inneholder permanente spill som MLG Rush, SpeedBuild, LavaFloor, EnderGames og MLG Training. Hver annenhver uke lanserer vi et nytt spill som up-votes på forumet.
EnderGames
Jeg velger å kun fortelle om vår nyeste spillemodus på Arcade, nemlig Ender Games. Denne går utpå at du skal skyte et enderpearl på gul blokk for å deretter skyte deg videre helt til målet (grønn blokk). Treffer du en annen blokk eller bommer blir du teleportert tilbake til spawn og må starte på nytt
Endringer
Lagt til ny Lobby

Speedbuild, velge flere blocks

Speedbuild, 3 nivåer: onestack, threestack og straight (rett frem)

Lagt til ny LavaFloor lobby

EnderGames lansert

Lagt til ny layout på kompass, meldinger og mer

Scoreboard bug-fix

MLG Training bug-fixes

Lagt til nytt MLG Training map

Sortering i tablist

Ingen lagg

Lagt til 3 MLG Rush maps

Lagt til MLG Rush stats, /stats

lagt til MLG Rush leave kommando, /leave
Dette minigamet er et trenings spill som handler om teknikk og sikte-skills av enderpearls. Under så ser du vår første bane

Hellå GoliCrafters,
For litt siden lanserte vi en ny versjon av LootWars (den beste sålangt) mener jeg. Det var veldig gøy å spille, men ble kjedelig i lengden hvis du hadde best rustning osv. Derfor ville jeg legge til noe som gjorde det mer spennende å spille, nemlig 3 nye custom items!
Supply Packages
Dette er det beste item av alle. Av å høyre-klikke på en supply package (rocket) vil det etter 10 sekunder droppe en kiste på din plassering. Denne kisten er bedre enn alle de andre. Du kan blant annet finne et nytt rarity sett, Mythical eller 2 andre items som jeg vil snakke mer om under.

Flamestick
Denne gjenstanden er en god fordel for å gi damage til fienden på lang avstand, eller senke fiendens hastighet ved å sette fienden på flammer. Kulen som skyter gir fra seg en eksplosjon med skade og setter fienden på flammer i 1-2 sekunder.



Wizzard's Mask
Fra før av eksisterte denne gjenstanden kun for gøy, men nå har den fått en egenskap. Denne egenskapen gjør at når du har Wizzard's mask på hodet vil du ha Speed 1 helt til du tar den av igjen.

Med vennlig hilsen
Goli -Første og siste eier
Hello GoliCrafters,
A while ago we released a new version of LootWars (the best one so far), if you ask me. It was fun to play, but it got boring if you had the best armour, etc. That's why I wanted to add something new to make it more exciting to play, 3 new custom items!
Supply Packages
This is the best item of them all. 10 seconds after you right click on a supply package (rocket), a chest will drop at your location. This chest is better than all of the others. You can among other things find a new rarity kit, Mythical or two other items I'm going to talk about more underneath.

Flamestick
This item gives you a good advantage against your opponent. At a long distance, it can hurt your opponent, or cause your opponent to slow down by being lit on fire. The bullet gives off an explosion with damage, but it also causes your opponent to take fire damage for 1-2 seconds.

Wizzard's Mask
This item already exists, but just for fun. Now we have given it an ability. This item will give you infinite Speed 1 until you take the skull off again.

Best regards,
Goli -First and last owner